Differences Between Autel MP808 and Autel DS808
When professional mechanics need a new OBD2 scan tool, they often go to Autel. Autel OBDII scanners are reliable, accurate, and have all the functions a mechanic or car owner needs for quick diagnosis. But what is the difference comparing the Autel DS808 vs. Autel MP808? 
Autel MP808 and Autel DS808 have the same functions, they are an upgraded version of Autel Maxicheck Pro + MaxiCOM MK808BT + Active Test / key Coding / Bi-directional Control, etc. Let me show you differences.
Autel MP808 
Pros
Diagnose all systems, including powertrain, transmission, and more
Performs active component tests
Save, access, and print reports through Data Manager
7" touchscreen offers smooth, intuitive navigation
Service functions include ABS bleed and DPF regeneration
Compatible with all OBD2 protocols and 80 manufacturers
Cons
Reset and programming functions less extensive than with MS906
No compatibility with OBDI vehicles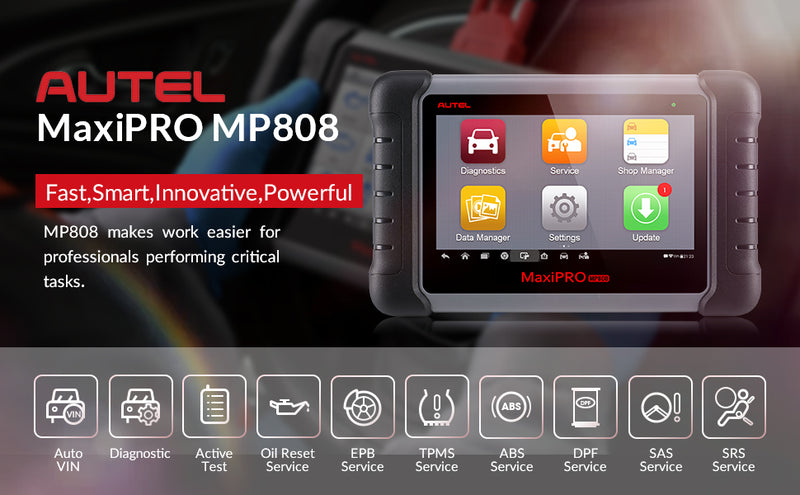 Autel DS808
Pros
OE-level diagnostics of all vehicle systems
Performs oil reset and TPMS reset
Cloud-based MaxiFix and Shop Manager features are convenient
One year of upgrades comes included
Supports bi-directional testing of some vehicle components
Android-based system gives smooth navigation and quick response
Cons
May not be compatible with the newest vehicles
More limited service and repair functions
Battery is low quality and known to die frequently

As we mentioned above, all two of these scanners offer extensive diagnostic and repair functions.
Frequently Asked Questions:
Q: How can I tell if the Autel DS808 or Autel MP808 is compatible with my vehicle?
All two offer wide compatibility, so it's very likely they do. You can double-check through the company's website, however. Send them your vehicle's particular make and model year, and they'll let you know which services are supported for it by the device.
Q: Do I need to update my device before I use it?
Most of the time, Autel scanners come fully-updated and ready to go out of the box. You will, however, need to register your device when you receive it. Once it's turned on and registered, the device will check to see if it needs any updates.
Q: If I choose not to pay for updates after one year, will the Autel DS808 or Autel MP808 still work? 
Yes. All functions currently active on the scan tool will continue to work even without the paid updates. However, you won't get any new functions, software, or vehicle updates that are released, which will limit its use more the longer it goes without updating.
Q: Do these scanners read pending codes and permanent codes?
Yes. You can read all trouble codes with the DS808 and MP808, including manufacturer-specific codes, hybrid codes, pending codes, and stored or permanent codes.
Q: Will these scan tools let me customize things like the seat settings and climate control?
In most vehicles, yes. About resetting and reprogramming non-OBD II functions, there can be gaps in the DS808's compatibility, and even in the MP808. If you're concerned, check with the manufacturer for the specific manufacturer and model year in question.