First Look Autel MaxiBAS BT609 Battery Tester
Autel MaxiBAS BT609 wireless battery and diagnostic system applies Adaptive Conductance, a battery analysis method developed to provide a more accurate study of the battery's cold cranking capability and reserve capacity, which is of great importance for determining the condition of the battery. The 7-inch Android touchpad can quickly display the current battery's health status, record a new battery, and perform advanced battery and electrical system diagnostics. BT609's features include AutoVIN for instantly identifying vehicle and battery information and displaying graphical instructions for battery positioning and testing. It has a service menu. It is a device that can read / delete codes in all existing vehicle systems and perform common maintenance services. It can also print customized reports via Wi-Fi.
Autel MaxiBAS BT609 

Specification
Item
Description
Operating System
Android 9.0
Memory
2GB RAM &   64GB On-board Memory
Display
7.0 inch   TFT-LCD with 1280 x 800 resolution & capacitive touch screen
Connectivity
Wi-Fi (IEEE   802.11 a/b/g/n/ac 1x1)
BT 5.0+EDR+BLE

 

USB 2.0 (1 USB HOST + 1 USB OTG)

Micro SD Card (Support up to 128GB)
Camera
8 Megapixel
Sensor
Ambient Light   Sensor (ALS)
Audio 
Microphone
Input/Output

 

Loudspeaker

Power and Battery
5800 mAh 3.85 V   lithium-polymer battery
Charging via 5 V AC/DC power supply with the temperature between   0°C and 45°C
Input Voltage
5 V / 2 A   Adapter
Operating Temp.
0 to 50° C

(32 to 122° F)

Storage Temp.
-10 to 60° C   (14 to 140° F)
Dimensions (WxHxD)
197 mm   (7.75") x 135 mm (5.31") x 14 mm (0.55")
Weight
445 g (0.98 lb.)
Support in-vehicle and out-of-vehicle testing of passenger vehicle batteries
Test 6- and 12-volt batteries: 100 - 3000 CCA
Test 12- and 24-volt cranking/charging systems
Test Flooded, AGM, AGM Spiral, EFB and GEL batteries
Compatible with CCA, CA, SAE, EN, IEC, DIN, JIS and MCA
One-touch Battery registration
Quick display of battery specifications through battery barcode scan, Auto and manual VIN entry
Illustration instruction guides for battery positioning and testing
Print test reports via built-in thermal printer
Read and erase codes of all available systems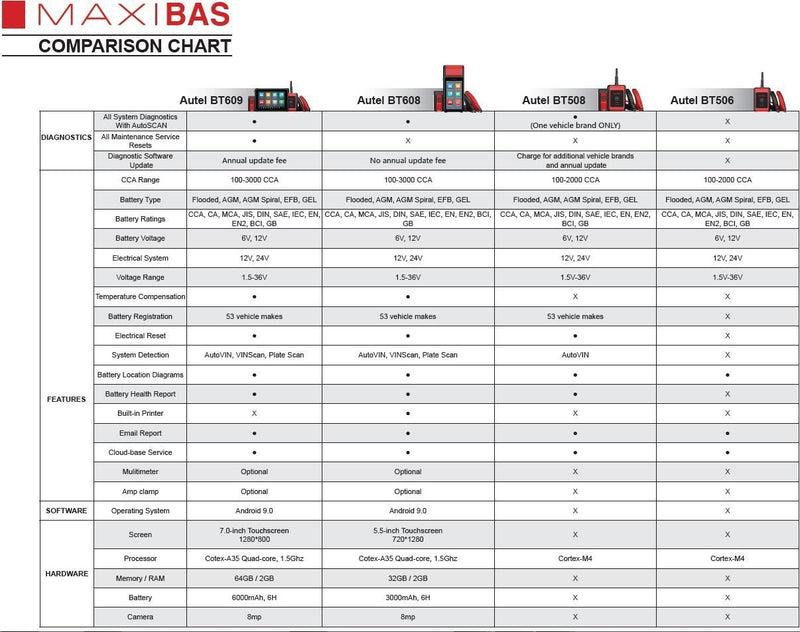 Why does the BT608 kit include a VCI for the OBD-II connector?
The bluetooth VCI will allow communication between the vehicle and the BT608 to:
- AutoVIN and feed MMY info to the BT608.
- feed battery registration from the BT608 to the vehicle (Battery Change icon)
- clear codes (Diagnostics icon)
- perform vehicle reset procedures if required (Battery Reset icon)