Comparison Autel XP400 Pro and Autel XP400
Autel XP400 Pro is the upgrade version of XP400 key programmer. It adds more functions for BMW, Mercedes-Benz, as well as EEPROM reading. Works perfectly with Autel IM508 IM608, im608 pro etc. and makes these Autel key programmers support more advanced key programming Tool vehicle coverage, powerful IMMO/programming function.
Autel XP400 Pro VS XP400 Comparison Chat
Product Name
XP400
XP400 PRO
Price

$469.00

$556.00

EEPROM read/ write
330 chip types
445 different chip types newly added support (AM29FXXX seriesMB29FXXX series)
MCU read/ write
1541 chip types
2067 chip types
Engine ECU read/ write
40 chip types
41 chip types add write support for SIMTEC76(AM29F800BB)_WRITE
Immobilizer ECU read/ write
168 chip types
181 chip types
Odometer read/ write
read odometer module 9 types
read odometer module 171 types (update in July)
Airbag read/ write
read airbag module 5 types
read airbag module 5 types
Frequency detection
315/ 433/ 868MHz
315/ 433/ 868MHz
Key read/ write
support
support
Unlock key
N/A
support 11 key types (Audi/ BMW)
Write key via dump
Mitsubishi, Suzuki, Fiat, Land Rover, Jaguar
Mitsubishi, Suzuki, Fiat, Land Rover, Jaguar
Easy to use/ stability
1. menus are too value and can't select intuitively
1.Stability of key read/ write, chip read/ write, IR key read/ write are greatly enhanced.
2. with high-definition

 

wiring diagrams (not sufficiently covered)

2.menus are too vague and can't select intuitively
3.with high-definition wiring diagrams (not sufficiently covered)
What's new about XP400 Pro ?
Expanded EEPROM functions for more component access
170+ types Odometer component reading functions
180+ Immobilizer ECU component types
40+ Engine ECU component types
2000+ MCU component types
440+ EEPROM component types
Compatible with IM508 and IM608, and the latest IM608 Pro
NOTE: Autel XP400 Pro Key Programming Accessory Tool has been updated, it's fixed XP400's problem that it can NOT be connected to the vehicle OBD connector for that may cause burnout to XP400 mainboard. Please always be noted that XP400 Pro can perform IMMO functions only when connected with scanner and adapters such as APA104, APA105 etc.
NOTE: The functions are not universal compatible, please send VIN to check before purchase.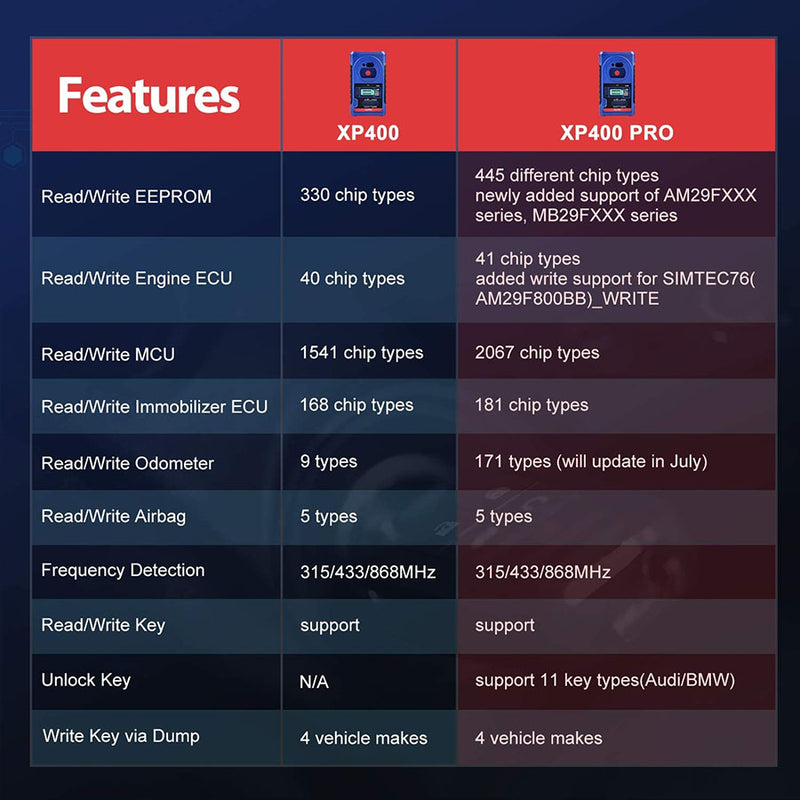 XP400Pro Adds Support for Following Chips

EEPROM–>>AMD–>>AM29FXXX series chip
EEPROM–>> FUJITSU–>> MB29FXXX series chip
EEPROM–>> ST–>> M29FXXX series chip
Engine control module–>> ST–>> M29FXXX series chip
IMMO–>> BENZ–>> ESL_W209_W906(Motorola) read/write/erase function
IMMO–>> BMW–>>EWS3 module read/write function
REMOTE_RENEW (renew key)–>> NEC–>> V51 and V5 chip read/write/erase

XP400 Pro Adds Support for Following Adaptor Board (Need to Buy IMKPA Accessories Separately)

APB113 PCF79XX adaptor board
APB114 EWS3 adaptor board
APB115 NEC adapter board
APB118 NEC ELV adaptor board
APB119 TB28FXXX adaptor board
APB120 TMS370 adaptor board
APB121 AM29FXXX adapter board
APB122 AM29FXXX adaptor board1
APB123 AM29FXXX adaptor board2
APB126 M35080/D80 adaptor board
APB127 MC68HC0 (7)05BXX adaptor board
APB128 MC68HC05X32 adaptor board
Both XP400 and XP400 Pro are good assistants for Autel IM508/IM608/IM608 Pro. Just choose the one depends on what function what car model you want to do.