What is the differences Between Autel MaxiTPMS TS501 and TS601?
Many friend are interested in Autel Maxi TPMS system, especially in TS601 and TS501. They often asked about which one to choose. Here are the mainly differences between Autel MaxiTPMS TS501 and TS601.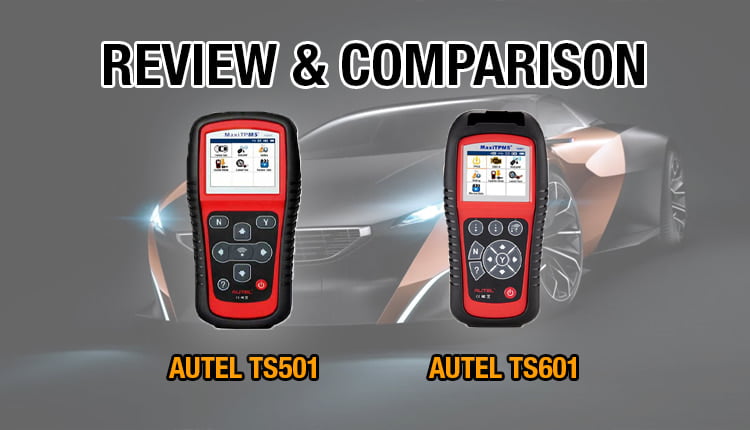 Autel TS501: Full TPMS Tool Capable of Wirelessly Diagnosing 
Programs vehicle ECU to learn sensor IDs and positions
Activates magnetic, frequency and tire deflation triggered sensors using
125 kHz continuous or modulated wave signals
Receives 315 MHz, 433 MHz and 309MHz signals
Reads sensor ID from vehicle ECU
Reads/clears codes of TPMS system and resets malfunction indicator light
Simplifies the diagnostic process including four and five wheel
vehicles by showing vehicle graphs
Decodes sensor data and provides visual and audible
responses to confirm sensors are working properly
Interprets data including sensor ID, tire pressure, temperature,
battery status and OE part no.
Pre-selection process offers faster activation and diagnostics
Autel TS601 Relearn Tool: Full TPMS Reset / Programming Tool With OBDII Diagnosis
Supporting up 98% of American, European and Asian vehicles with TPMS system on the market.
Activates ALL magnetic, frequency and tire deflation triggered sensors using 125KHz continuous or modulated wave signals.
Built-in OE-level TPMS Relearn procedure varies by vehicle make, model and year.
OE-Level TPMS diagnostics, including Read / Clear TPMS Codes, TPMS Live Data, and TPMS Active Test etc.
Be able to activate both 315MHz and 433MHz sensors.
Be able to get access, copy and write in the Sensor ID.
Be able to retrieve the OE sensor ID, providing reference information for buying original sensors.
Be able to program the Autel MX-Sensor, which shares the same performance and reliability as OE sensors.
Be able to read, record and playback TPMS live data, including tire pressure, signal status, temperature, battery status, etc.
Overall, all of these 2 Autel TPMS tools are sturdily constructed to last longer and are very easy to use. Depending on what you want to use the tool for, you will find that all of them perform very well and accurately. While if you want an advanced tool at a great price, then you should pick the ts501. But if you're ready to spend or want a professional TPMS tool, then you should select the ts601 diagnostic TPMS tool.
Autel MaxiTPMS series is a professional TPMS diagnostic and service tool with unparalleled sensor coverage and incredibly easy-to-use interface. All of these units come with free updates and a one-year limited warranty. This is a good sign from Autel as you can fully rely on their products to deliver and use them for over a long period.