Autel MaxiCOM MK908 Review 2021 Newest Automotive Scan Tool
Autel MaxiCOM MK908 Diagnostic Platform is an evolutionary smart solution for specialized automotive diagnosis. Utilizing the powerful A7 quad-core 1.30GHz processor, and a 10.1-inch capacities touch screen, combined with the best possible coverage of OE-level diagnostics, and based on the revolutionary multitask-capable Android Operating system, the MaxiCOM organizes information with test instrumentation to help you diagnose symptoms, codes, and customer complaints easily, quickly and efficiently.
【31+ SPECIAL SERVICES】
Upgrade of Autel MS908/MS906BT, Autel MK908 scanner covers 30+ services like Oil Reset, EPB Reset, SAS Calibration, DPF Regeneration, Battery Registration, Throttle Reset, ABS Bleed, Injector Coding, Key Fob, Trans Adaptation, Suspension Calibration, Zero Point Calibration, Calibrate Weight Sensors, Power Balance, Crankshaft Variation Learn and etc. NOTE: NOT universally compatible!
【ECU CODING & BI-DIRECTIONAL CONTROL】
Autel MaxiCOM MK908 diagnostic scan tool comes with advanced ECU coding function. After the replacement of ECUs/modules, you have to match, learn, code the newly replaced ECU. Otherwise, some functions may not work properly or the car won't start. MK908 is also a bi-directional scanner that can activate tests to control ABS motor, window, door and etc to test its operations or pinpoint faults. NOTE: Please consider MS908S PRO if you need ECU Programming.
【OE-LEVEL ALL MODULES DIAGNOSTICS】
Autel MK908 professional scan tool can access and diagnose all available modules on a wide range of vehicles, including PCM, ECM, EPS, PDM, TPM, BCM, ABS and SCCM and etc. With complete capabilities for codes, live data, active tests, ECU information, adaptation, matching and etc, Autel MK908 auto scan tool can read and clear diagnostic fault codes(DTCs), show live data steam of multiple sensors and perform vehicle-specific active tests.
【2021 NEWEST, BROADER VEHICLE COVERAGE】
Maxicom MK908 scanner works on over 80+ US domestic, European and Asian makes and models, up to 2018, 2019, some 2020/2021. With a complete connector kit, MK908 can access more vehicle models and modules for mechanics and auto technicians.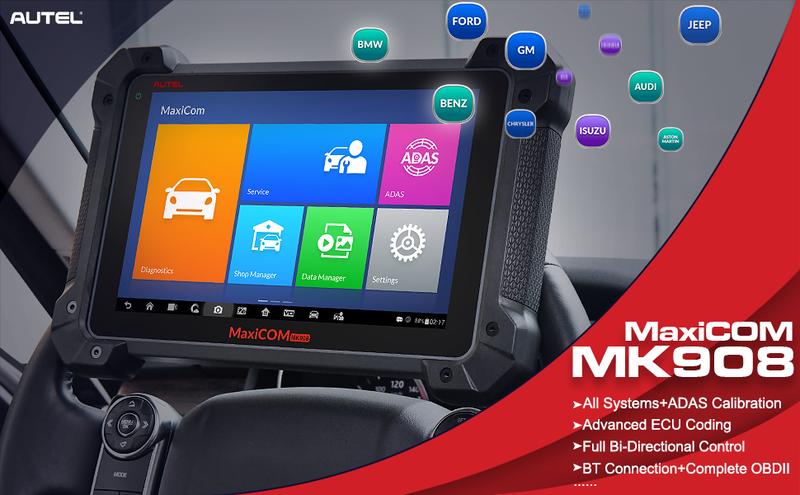 Burst Point of  Autel MaxiCOM MK908 Automotive Scan Tool
1. Upgraded Version of MS908 MaxiSys
2. Support All-Around Diagnoses and ECU Programming
3. Ultimate Configurations for Super-Level Diagnosis
4. Multiple Language Supported: English, Spanish, French, German, polish,Italian, Japanese, Korean, Dutch, Portuguese, Turkish, Swedish, Thai, Arabic, Russian, Chinese
5. MK908 has full OBD2 coverage, the best possible coverage of OE-Level diagnosis on over 80 American, European and Asian vehicles and also coverage for some OBDI vehicles with 9 OBDI adapters included: Chrysler-16, Nissan-14, BMW-20, Kia-20, Honda-3, GM/Daewoo-12, Benz-38, Hyundai-12+16, VW/Audi-2+2
As an advanced version of MS908, Autel MaxiCom MK908 Wireless Professional Scan Tool is Autel's latest and most sophisticated automotive diagnostic scanner.
Equipped with the hardware including the powerful A7 Quad-Core 1.3GHz processor, 2GB RAM 64GB Memory, it's fast to boot-up and multitasking. Combined with the best possible coverage of OE-Level Diagnosis, various most commonly used service functions and special functions, advanced ECU Coding, full bi-directional control, active tests and Key Fob Programming, Autel MK908 Wireless Automotive Scan Tool is the ultimate scan tool for technicians, mechanics and DIYers.