Autel MaxiCheck Pro Reviews 2021
Autel MaxiCheck Pro service tool, based on Autel's latest diagnostic platform, is simple and easy to use. It is specially designed for professional technicians and body shops to service individual specialized systems, such as EPB, Oil Service, ABS, SRS, BMS, DPF and more. MaxiCheck Pro provides quick and easy solutions to everyday tasks in the workshop that cannot be completed without the use of a diagnostic tool. It is the ideal service tool for today's technicians at a price everyone can afford.
Why Buy Autel Maxicheck Pro OBD2 Car Diagnostic Tool?
Unlike high-end code readers, Autel Maxicheck pro OBD2 Car Diagnostic Tool is very easy to use and compact in design. The hotkeys on the device are clearly indicated and the display screen is large enough to provide the user with an easy time reading the fault codes displayed. Like most Autel diagnostic scanners, the Maxicheck pro can as well be updated via the internet and performs a wide range of functions.

Autel Maxicheck pro is also compatible with most OBD2 vehicles manufactured 2013 and older. This includes domestic, European, and Asian vehicles. With coverage of more than 50 vehicle makes, this is a reliable tool even or professional mechanics who deal with different cars on a daily basis. Read on to find out the Autel Maxicheck features, benefits, and setbacks.
Autel MaxiCheck Pro has been marketed as one of the best OBD2 diagnostic scanners for professional auto technicians and mechanics for the 8 Special service functions it covers. Those functions include ABS Bleeding, SRS, BMS, DPF, Oil Service, EPB Service, SAS, Oil Light, etc.
Autel MaxiCheck Pro 

Specification
Display
TFT color display (320 x 240 dpi )
Operating Temperature
0°C to 60°C (32°F to 140 °F)
Storage Temperature
-20°C to 70°C (-4°F to 158 °F)
External Power
12.0 to 18.0 V power provided via vehicle battery or adapter
Dimensions
Length: 212 mm (8.35'') 
Width: 110.5 mm (4.35'') 
Height: 37.5 mm (1.48'')
Weight
0.28 kg (without wire) 0.484 kg(with wire)
Autel Maxicheck Pro PROS and CONS
PROS
Compact and Lightweight
TFT Color Display
Extensive Vehicle Coverage
Intuitive User Interface
Broad Functions
Internet Updateable and Upgradeable
Simple to Carry and Keep
CONS
Error code is not printable
Compatibility issues
Lack of clear instructions and poor customer support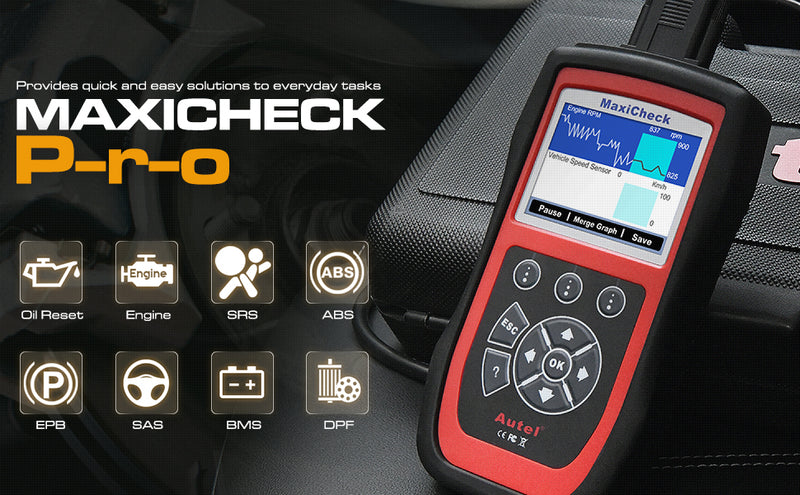 Summary
Autel MaxiCheck Pro is a good mid-range scanner for mechanics or DIY enthusiasts who want to upgrade from an entry-level scan tool to a better OBD2 scanner. It may not have all the features of the high-end scanners like the Autel Maxicom MK808, but it is very versatile. This Autel scanner can be used to read and erase error codes, rest oil service light, read, clear, and diagnose EPB/SBC, reset service mileage and service intervals, and much more. 
Autel MaxiCheck Pro FAQ
Question: Can the Maxicheck Pro scanner be utilized to calibrate the SAS steer control sensor?
Answer: Yes, it can. But you need to contact the manufacturer and find out which vehicle makes and models it can be utilized to calibrate the SAS steer control sensor. It does on some, and on others, it won't. Therefore, it is a good idea to know before acquiring it.

Question: Is the TFT screen on the Autel Maxicheck Pro colored black and white?
Answer: This is a good question. A scan tool with a colored screen makes the reading of results in different light conditions to be easy and fast. The Autel Maxicheck Pro features a 320 x 240 TFT full-color display. This means that you can even read the results in bright light or poorly lit areas without any problem.

Still, have a question after reading this Maxicheck Pro Review? Ask a question below.