Autel OTOFIX BT1 Reviews 2021 [Professional OBDII Battery Tester]
OTOFIX BT1 Battery Tester with its smart 5.5 in. touchscreen, enables you to examine your battery and electrical systems and register a new battery with the fastest, most convenient experience ever. Combined with otofix Cloud Services, the otofix BT1 provides a comprehensive battery analysis solution from diagnosis to repair.
OTOFIX BT1 is a touchscreen Battery & Electrical System analyzer that applies an advanced battery analysis algorithm - Adaptive Conductance. Adaptive Conductance produces a more accurate examination of the battery's cold-cranking ability and reserve capacity, vital to determining a battery's true health. The diagnostic report can be customized with your personal or entity information.
Related: OTOFIX BT1 Lite VS OTOFIX BT1 In-Depth Comparison 2021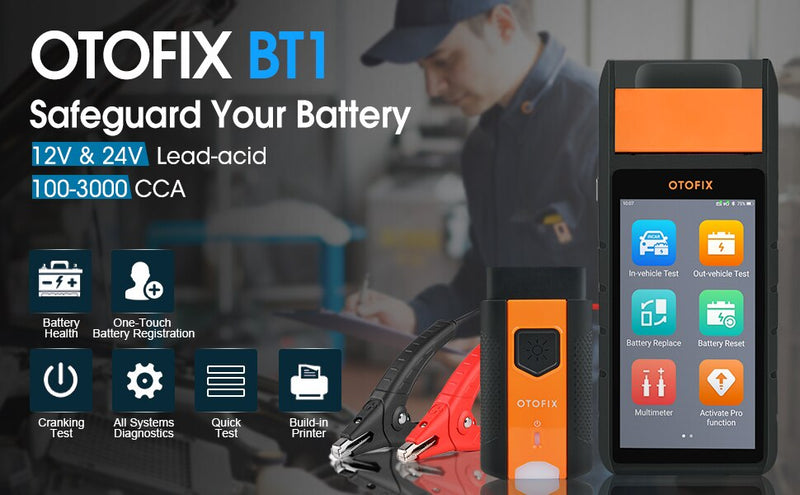 OTOFIX BT1 Specifications
Package Dimension (WxHxD): 25.5 x 20 x 6.5 cm
Package Weight: 0.54 kg
Connectivity: USB 2.0 Type-C, Bluetooth V3.0 BR/EDR+ V4.2 LE Dual-Mode
Input Voltage: 5V DC
Working Current: < 150mA at 12V DC
CCA Range: 100 - 2000 A
Voltage Range: 6 to 36V
Operating Temperature: 0° to 45°C
Storage Temperature: -10° to 60°C
OTOFIX BT1 

Features
TOP-LEVEL ACCURACY & QUICK TEST RESULTS: Exclusive adaptive conductance algorithm.
Battery load tester, car cranking, and charging system analysis.
New battery registration to ECU.
Auto VIN entry, auto-detection of battery specifications through the built-in camera
Built-in thermal printer and e-mail function to print and email customized report
【Professional Battery Tester】
Autel OTOFIX BT1 is a stylish professional Battery tester able to perform in-vehicle and out-of-vehicle battery test for 6-12V batteries. It can automatically identify battery parameters and displays vehicle-specific battery locations by VIN, perform battery health check, One-Touch Battery Registration, starter and generator test. It also come with special features for BMW cars to reset Closed-circuit Current Monitoring Cycle and display battery usage history.
【Smart Adaptive Conductance】
OTOFIX BT1 adopts advanced Adaptive Conductance technology for more accurate examination of the battery's cold cranking ability and reserve capacity, allow multiple tests without draining the battery and test low or nearly completely discharged batteries. Besides, Adaptive Conductance is also applied to test the battery's partnering components, the alternator and starter.
【All System Diagnostics& Electric Appliance Reset】
OTOFIX BT1 is able to reset Electric Appliance after replacing car batteries to relearn the position settings on some vehicle components. OTOFIX BT1 Charging System Test Scanner is capable of performing all system diagnostic (read/clear DTCs on all available systems, view live data, freeze frame data) on cars from USA, Europe and Asia,coving 98% car models in the market.

【Cranking System &Generator Test】
OTOFIX BT1 can work on12V-24V Cranking Syetem for Amps and cranking speed and Test Generator System for info of Ripple, off-load voltage/Current, and Load voltage/ Current etc with on-screen step-by-step guidance.
【Wireless Connection & Built-in Printer】
OTOFIX BT1 comes with V1 wireless VCI to achieve wireless testing, diagnosis and other operations, free you from complicated and restrained wire connection. BT1 battery tester is equipped with built-in themal printer to generate test reports for batteries, cranking system and generator.
What Can OTOFIX BT1 Do for You?
1. Electrical System Reset
2. Auto Registration After Battery Replacement
3. All System Diagnostics with Subscription
4. Graphic Instructions for Battery Replacing and Testing
5. Guided Battery Replacement Procedure with Prompted Memory Reset
6. AutoVIN to identify Battery Parameters 
Source:https://www.obdprice.com/blogs/news/autel-otofix-bt1-reviews-professional-obdii-battery-tester