Autel MaxiSYS MS906BT Update Cost
 Autel Maxisys MS906BT One Year Update Service
The orginal Maxisys MS906BT diagnostic scanner include 1 Year FREE software updates and 1 Year warranty. After the initial year expires, you may purchase an additional 1-Year Update Service to upgrade your tool to latest software version to cover lates vehicle coverage and functions.
This subscription can be purchased at any time and it will add 12 more months of updates to your current time. And during the date you have unlimited access to the latest software and functionality for one year.

Suitable for: Autel Maxisys MS906BT's update date is expired or you wanna extend your update service, you can buy this service to get an extended update service for one year.
Top 3 reasons to get Autel Maxisys MS906BT Update Service
It is one year update service suitable for Autel MS906BT,

Autel 

MK906BT.
Get the latest features and functions as they roll out from Autel
Service all the latest makes and models supported by Autel
How do we process your update service?
After checkout, please send us your S/N and we will authorize your scanner within 24 hours.
After authorizing, we will send you an notification and you will be able to renew your device online.

Your purchase of the Total Care Program for the MS906BT includes:

• One-year hardware Limited Warranty extension: Discounted service fee for battery replacement / head unit (tablet) replacement; Limited Warranty covers device failure. It does not cover damage caused by user misuse or mishandling.

• One-year subscription to download free tool software updates: Coverage for all vehicles - extended coverage for older vehicles / updated coverage for newer vehicles; Newest tool software - current tool functionality and updated diagnostic features for proper testing.

• Dedicated customer support from our ASE-Certified Technical Support staff: Provides support for all questions regarding Autel tools and their use within coverage; Provides Return Goods Authorization (RGA) for defective or malfunctioning tool from Autel USA.

How much Autel MaxiSYS MS906BT Update Cost?
Autel MaxiSYS MS906BT Update on line one year free. After one year Need to update your Autel MS906BT MaxiSYS?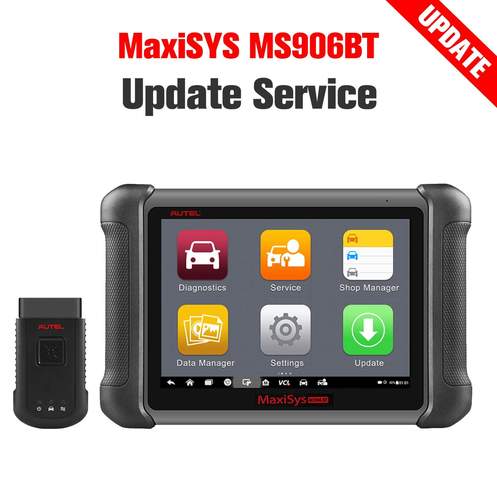 Autel Maxisys MS906BT One Year Software Update Service