Best Worth OBD II Scanners for DIYers Professionals
OBD and OBD-II
First we need to understand what is OBD. On-board diagnostics (OBD) is a computer-based self-diagnostic, monitoring, and reporting system built into automobiles to monitor the performance of the various engine components and emission system components.

In 1996, the US government made a standardized system mandatory for new cars. This system is OBD-II. After 1996, all vehicles sold in the US use the same system, with the same connector, with the same diagnostic codes, to be read with the same tool. That makes diagnosing car problems easier across the board.
How does OBD-II System works?
There are many sensors throughout your car: oxygen sensors, engine knock sensors, manifold pressure sensors and more. Each one of these sensors sends a signal to your car's computer, the Engine Control Unit (ECU). The ECU uses that information to adjust different elements of your engine operation, the fuel injection or the spark timing for example.

If the information that the ECU gets from one of its sensors is too far out of whack, it saves a code called a Diagnostic Trouble Code (DTC). It also sends a signal to you as a check engine light.

The scanner connects to a port usually found underneath your dashboard on the driver side. These ports are standardized so any OBD-II scanner should be able to read codes from any OBD-II car. The scanner can then check for saved DTC and show you the codes on the scanner's screen. Most scanners can also perform other functions, like checking the measurements taken by your various sensors in real time. If you work on cars frequently, a scanner can be an invaluable tool.
Autel MaxiLink ML629 is an ideal car scanner for professionals and DIYers who are looking forward to reading and erasing DTCs for ABS, SRS, Engine, and Transmission on most 1996 and newer major vehicle models. Meanwhile, this Autel scanner comes with all 10 modes of OBD II test including O2 Sensor Test, on-board Monitor Test, etc. to get to the root cause of the check engine light, thus to avoid being fined because of excessive emission. You'll quickly and smoothly ferret out required information benefited from the advanced configurations including TF memory car, 2.8 inches LCD screen, etc.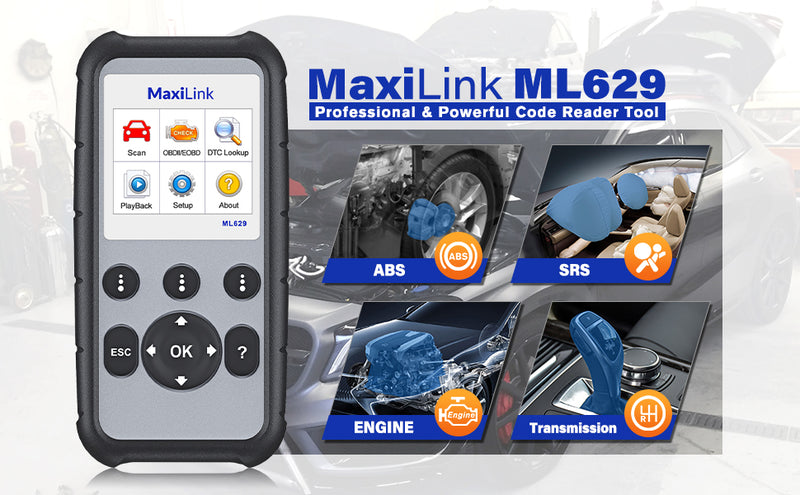 Autel MaxiLink ML629 Specification: 
Display
2.8-inch LCD (320 x 240 dpi)
Connectivity
USB mini 2.0
OBD II DB15
Operating Temp
-10°C to 60°C (14°F to 140°F)
Storage Temp
-20°C to 70°C (-4°F to 158°F)
External Power
8.0 to 18.0 V power provided via vehicle battery
Dimensions (LxWxH)
182.8 mm (7.2") x 90.9 mm (3.6") x 33.2 mm (1.3")
Net Weight
247 g (0.544 lb.)
Shop
Autel MaxiLink ML629 OBD2 Scan Tool ABS SRS Airbag Transmission Engine diagnosis, Same as AL629